In this section you can configure the following settings:

You can select where you want to show the Popup. If the "Show on all pages" option has been disabled, you need to use this option to select in which pages of the site you want to show the default popup.
The Cookie variable is the name of the cookie. This is used to avoid showing the popup to customers that don't want to see it next time they access the site, after having selected the checkbox in the footer.
Each time the name of the cookie is changed, the popup will be displayed to those customers that have previously decided to not see it again, as the last cookie registered for their session will be no longer valid.
We suggest to not abuse this feature, as it can be experienced as annoying.
the option hide policy allows you to decide when you want to hide the popup. You can hide it when the checkbox has been checked or you can choose to show it only once per session. About the last option, if you have different popups for different pages, the visualization of one of those won't imply the exclusion of the other. They will all be displayed only once to your customers when they enter the page.
How many days should the popup be hidden for? This option lets you choose for how many days the popup must be hidden to those customers that have decided to not see it again. The related cookie will expire after the days that are indicated here.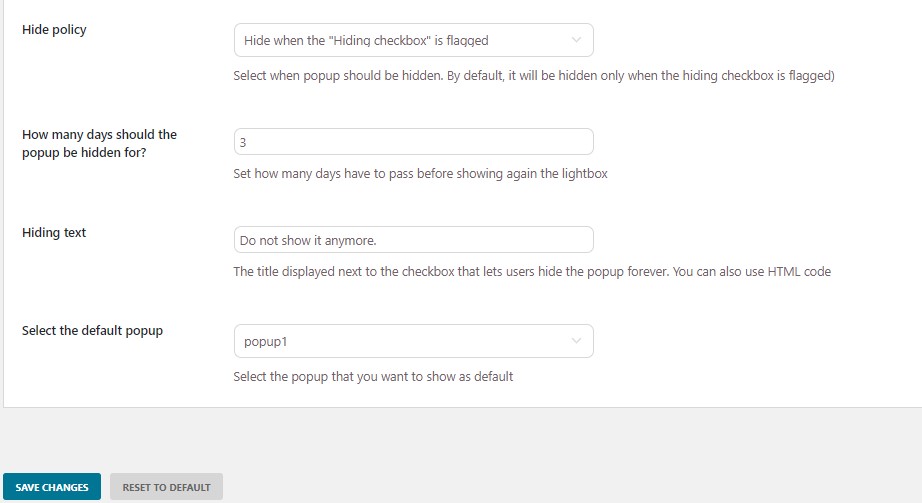 You can set the hiding text, the text to display next to the checkbox to hide the popup. And select a default Popup that you want to show on the page(s) of your website.