Is it compatible with all WordPress themes?
Compatibility with all themes is impossible, because they are too many, but generally if themes are developed according to WordPress and WooCommerce guidelines, YITH plugins are compatible with them. Yet, we can grant compatibility with themes developed by YITH, because they are constantly updated and tested with our plugins. Sometimes, especially when new versions are released, it might only require some time for them to be all updated, but you can be sure that they will be tested and will be working in a few days.
How can I get support if my WooCommerce plugin is not working?
If you have problems with our plugins or something is not working as it should, first follow this preliminary steps:
Test the plugin with a WordPress default theme, to be sure that the error is not caused by the theme you are currently using.
Deactivate all plugins you are using and check if the problem is still occurring.
Ensure that you plugin version, your theme version and your WordPress and WooCommerce version (if required) are updated and that the problem you are experiencing has not already been solved in a later plugin update.
If none of the previous listed actions helps you solve the problem, then, submit a ticket in the forum and describe your problem accurately, specify WordPress and WooCommerce versions you are using and any other information that might help us solve your problem as quickly as possible.
If you are using the premium version of the plugin, we invite you ask for assistance in our support desk.
Does this plugin captures and sends CVC, ZIP Code and Address for Fraud Prevention checking?
Hi! Yes, sure it does capture and sends CVC, ZIP code and address!
Does this plugin support Stripe Checkout?
Yes it does! After user has compiled all information on checkout page, you will be redirect to payment page where there is the Stripe Checkout button and pay.
Which countries does Stripe support?
Stripe is available in many countries and is constantly expanding to more. To see if your country is supported, visit the Stripe Global page.
Does Stripe require that my site have an SSL certificate?
Yes, you always need a SSL certificate with Stripe. All pages that include a payment form should be prefixed with "https://" not with "http://". See Stripe's SSL page for more information.
Does this plugin support Apple Pay and Google Pay?
Yes, you can activate both payment methods from your Stripe account settings and it is only available with Stripe Checkout method.

Apple pay
Please, refer to this page to learn more about how to enable it for you store!
Google pay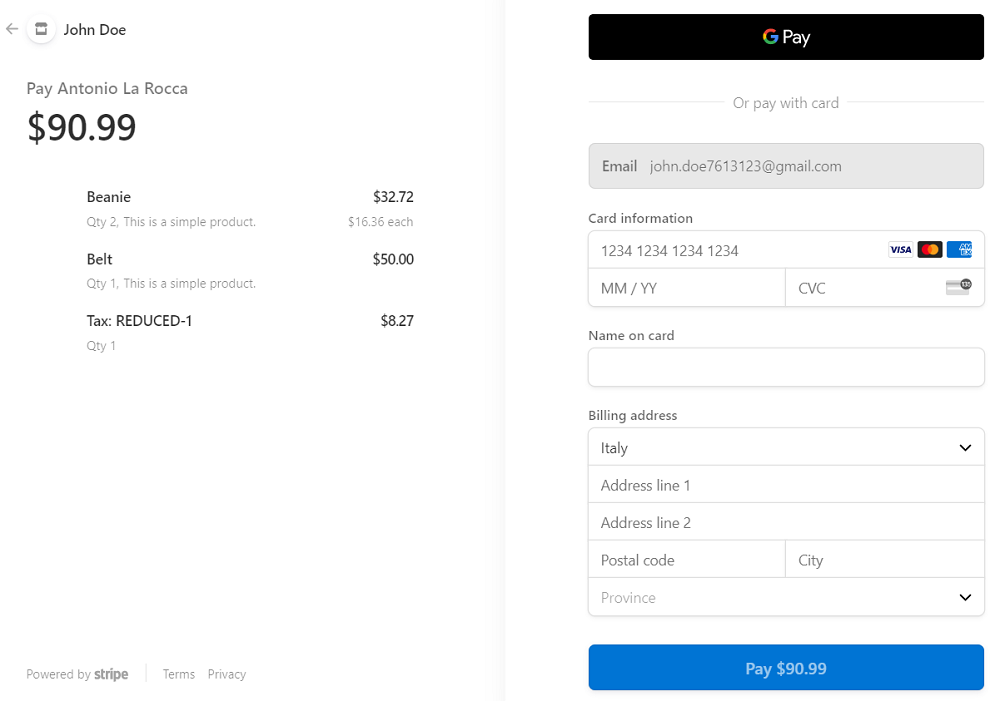 Please, refer to this page to learn more about how to enable it for you store!