The plugin gives you the possibility to export directly from your store a set of users for your MailChimp list.
You can export automatically to your MailChimp account or manually on CSV file.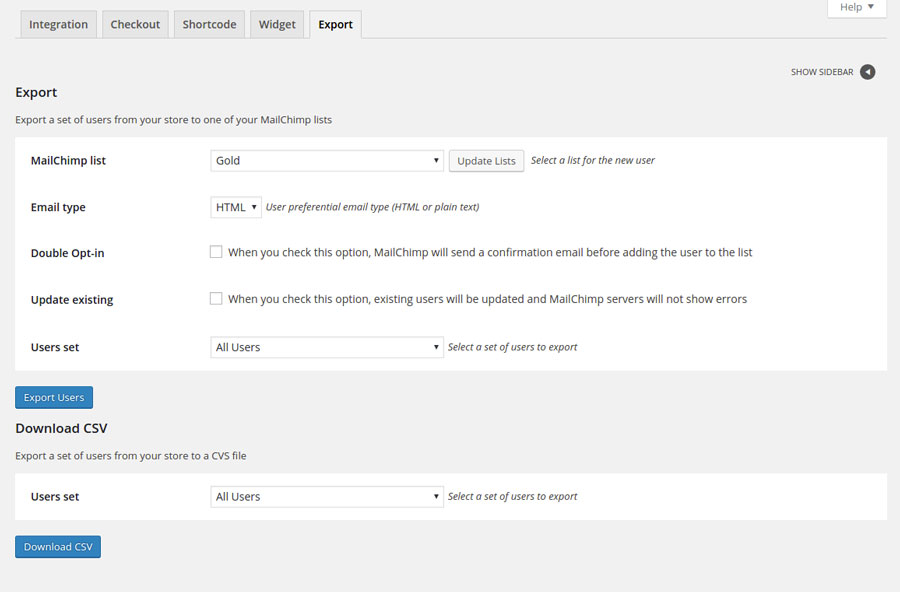 Let's analyse each option in detail to understand how they work.
MailChimp list: MailChimp list to which you want to export the list of users coming from your store.
Email type: type of email generated by MailChimp that will be sent each user imported from your store.
Double Opt-in: each user will receive a notification email, in which they will confirm their subscription to the newsletter.
Update existing: if users are already registered to MailChimp list, their profiles will be updated.
Users set: users of your shop that you want to export to the specified MailChimp list. You can choose among three different possibilities:

all users
all users registered to your store
only specific users that you add manually
you can filter users by product, category, tag of the purchased products or order completion date.
If you have exported your users list in CSV format, we suggest you to follow the Mailchimp guidelines
in order to import in the correct way.
Compatible with YITH WooCommerce Waiting List
Thanks to the compatibility with YITH Woocommerce Waiting List, you can export, among the users, also those who requested to be notified when the product they showed interest in will be available again.
In order to do it, select "Waiting List" in "Users Set" and choose the MailChimp field where the wishlist will be saved.